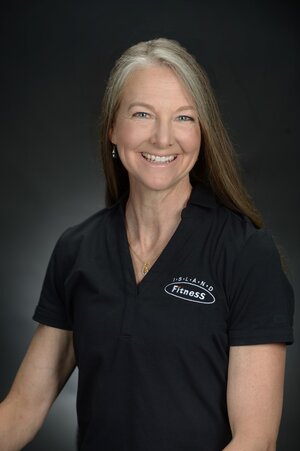 Jennifer has been in the fitness business since 1984 when she took a "How to Teach Aerobics Class" at El Camino Community College near LA and has been hooked on the fitness industry since. Early in her career she began to attend IDEA fitness conferences as an assistant, having access to learn from leaders in the fitness industry. This access helped her to not only have a real passion for bringing new and exciting exercise modalities to the public but also helped her to understand the interconnectedness of fitness and wellness. When Jennifer began personal training in 1995, it was about how many reps and sets, but now she has been trained to look at each client in a more holistic way.
When Jennifer begins with a client, the focus may be on the likely goals of losing weight, obtaining optimal health, improving athletic performance and/or building strength, but once the client begins their journey, Jennifer shows them that the intrinsic benefits of exercise are the ones that will get them to love their workouts and continue to be successful in achieving their goals. Jennifer carefully considers each client's situation to choose training methods that best suit the client's goals, ability and personality. She has been trained in many areas of fitness, so sometimes her methods include cardio fitness, weight training and sports conditioning, while other times a mind/body approach is appropriate. Jennifer is excited to be adding Ortho Kinetics to her knowledge base. Integrating these holistic, safe, and effective methods, Jennifer will create an individualized program just right for you.
Jennifer loves her career as a personal trainer, group exercise and yoga instructor, but in her free time she dedicates herself to her own yoga practice, her garden, and her regular workouts which often include swimming with her friends in the harbors and bays around Bainbridge Island.
CERTIFICATIONS:
ACE Group Exercise and Personal Trainer
500 Hour Dharma Yoga
Hawaii Yoga Institute Paddleboard Yoga
Barre Above
AFAA Mat Pilates
Cycle Reebok
Metabolic Effect
TRX
American Red Cross CPR/AED