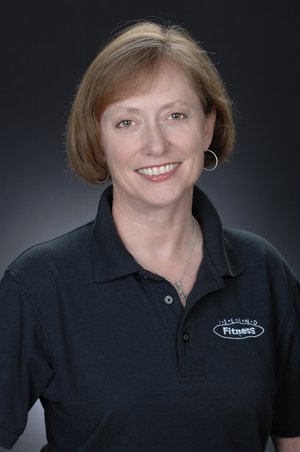 Ann loves supporting people in doing the things they love to do. She's trained her clients to play better soccer, hike the Olympics, compete in triathlons, run marathons, outdoor cycle, swim, golf, garden, chase the kids and grandkids around. Because she's taught a wide variety of group exercise classes since she was in college, she can advise and guide her clients in making good choices in group exercise classes as well.
Ann started her life as a mover by tap dancing at age 7. By the time she was 10 she couldn't dance enough – ballet, jazz, modern, tap. She also found time to swim competitively in high school. She followed her passion to college and received her B.S. in Ballet at Indiana University, which was followed by an M.A. in Arts Administration. She performed with Indianapolis Ballet Theatre, but learned she loved teaching much more than performing. So, she launched her ballet school in Bloomington, Indiana where she encouraged hundreds of children and adults in their pursuit of dance.
Along the way, she started teaching group exercise. Step, Hi-Lo, Circuit Training and for 10 years at Island Fitness, Group Power. That's where she learned just how much she loved weightlifting. Ann stepped into personal training in 2008 through the desire to work with individuals one-on-one. Her interest in keeping people moving, and moving well inspires her to begin her training schedule in the wee hours of the early morning!
Ann is an Ortho-Kinetics® Professional Trainer and a NASM Certified Personal Trainer. She is grateful to Island Fitness owners Michael and Alexa Rosenthal for bringing Ortho-Kinetics® Test, Train and Treat approach to our community. Ortho-Kinetics® has been a vital resource in helping all of her clients address or avoid injury, gain strength, and perform the activities they enjoy. It also helped Ann achieve her lifelong dream of walking the 400-mile French Camino in the fall of 2017.
Body Training Systems Group Power Instructor, ACE Group Exercise, BS in Ballet and MA in Arts Administration, Indiana University, Bloomington.
CERTIFICATIONS
Ortho-Kinetics® Professional Trainer
Certified Body Training Systems Group Power and Ride Instructor
Weight Loss Management Specialist
Behavior Change Specialist
NASM CPT
Certified Group Instructor (ACE)
B.S. in Ballet
M.A in Arts Administration
AED/CPR Certified