As we head into Fall, we want to take the opportunity to thank our Island Fitness Family for standing with us and supporting us as we weather this 'storm' together. We ARE stronger together and we want to welcome our new members to our family.
We continue to work hard to provide you with the safest environment possible and enable you to continue your individual workouts, in-person classes and professional training as well as providing alternative choices to maintaining your health via our Virtual and On-Demand Classes and Virtual training.
We love our class instructors and we are THRILLED that Jillian Bateman is back with her annual Flash Mob prep class for THRILLER (see class info below. It only happens here!).
---
Thriller with Jillian Bateman
Saturdays / In person
9:15-10:15 am
October 2,9,16.
Complimentary for members / $20 drop in for non-members
* also look for Jillian's ongoing virtual Zumba classes.
Wed/Fri 12:00-12:45pm!
New Content in our On Demand Classes!
We have a GREAT schedule of virtual and in-person classes, but if your schedule does not allow you to attend your favorite classes, check out our On-Demand classes! Take a class at your convenience!
Island Fitness members receive Instant Access to our Island Fitness Video OnDemand Catalog. We heard you! and we are building our library.
Go to: island-fitness.com/ondemand enter your name to receive your password.
---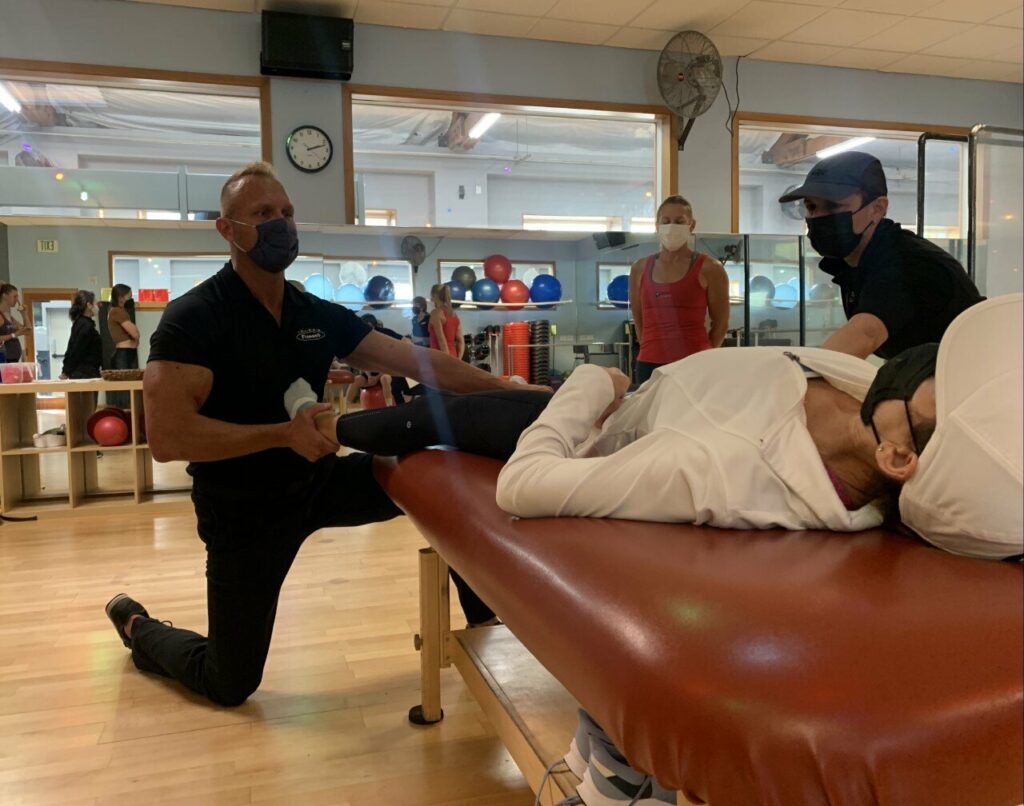 When it comes to fitness, we recognize that everyone has their own goals and desires, which can sometimes be challenged by physical imbalances leading to movement compensations and training frustrations. That's why we turn each member's distinctiveness into a training advantage.
Not only is Gavin DeWitt an amazing Professional Trainer as our Fitness Director he leads an amazing training team.
Ortho-Kinetics® Trainers are uniquely equipped to assess, train, treat and continue rehab for people of all ages and athletes at all levels.
It's an effective approach that helps you see the results you desire in the shortest possible time.
Contact Gavin DeWitt to schedule your Ortho-Kinetics Assessment and training.
---
Keep Mask hygiene in mind:
KEEP your clean masks in a Ziplock or zipper pouch (so YOU know which ones are clean)

WASH or sanitize your hands after handling a mask you have worn

WASH your mask after wearing (especially after your workout!)
We appreciate you wearing your masks properly to protect your fellow Island Fitness Family. Remember that while you are exercising and breathing hard, our MERV filers, air scrubbers and ionizers working hard to protect YOU!
---
Here in the heart ❤ of Bainbridge Island.
Once you are Island Fitness family, you are always Island Fitness family. Even if you've moved off island, our easy access to the ferry, groceries, take out and your commute brings you downtown to the heart of Bainbridge Island.
Clean indoor air. HVAC system uses Merv13 filters and Aerus air scrubbers & ionizers using Active Pure technology throughout the club

Full gym access.

In-Person and Virtual Group Fitness classes

Complimentary Wireless Internet

Daily locker use

Weight room

Cardio room

Cybex selectorized equipment

Free motion equipment

Plate loaded equipment

Discount on training, massage, and wellness services

Friendly and knowledgeable staff