Hi, my name is Dana Fitzpatrick, and I've been cycling for 15 years and teaching spin class for 5 years. I'm a certified indoor cycling instructor. I love the energy and community of group classes, and find that I can push harder than I can when I work out alone. The music, spirit, and joy in a spin class just can't be beat!
Spin is great for beginners in that the choreography is fairly simple and the effort you put forth is completely tailored and chosen by you. Although I can make suggestions for how hard you work, ultimately you make the choice. It's a perfect collaboration and delightfully anonymous! Spin is a fantastic workout for lower body and core strength, easy on your joints, and a huge calorie burner.
I love being part of the Island Fitness community and I aim to provide a class that builds fitness and is incredibly fun. Join us for Cycle 45 Fridays at 12:15!
Hello, my name is Renae McCloud, and I've been teaching group exercise classes for over 30 years. I am certified by ACE and ACSM in both group exercise and personal training. I am also a Functional Aging Specialist, which means you are not too old to take my class. I am certified to kick your butt "senior" style!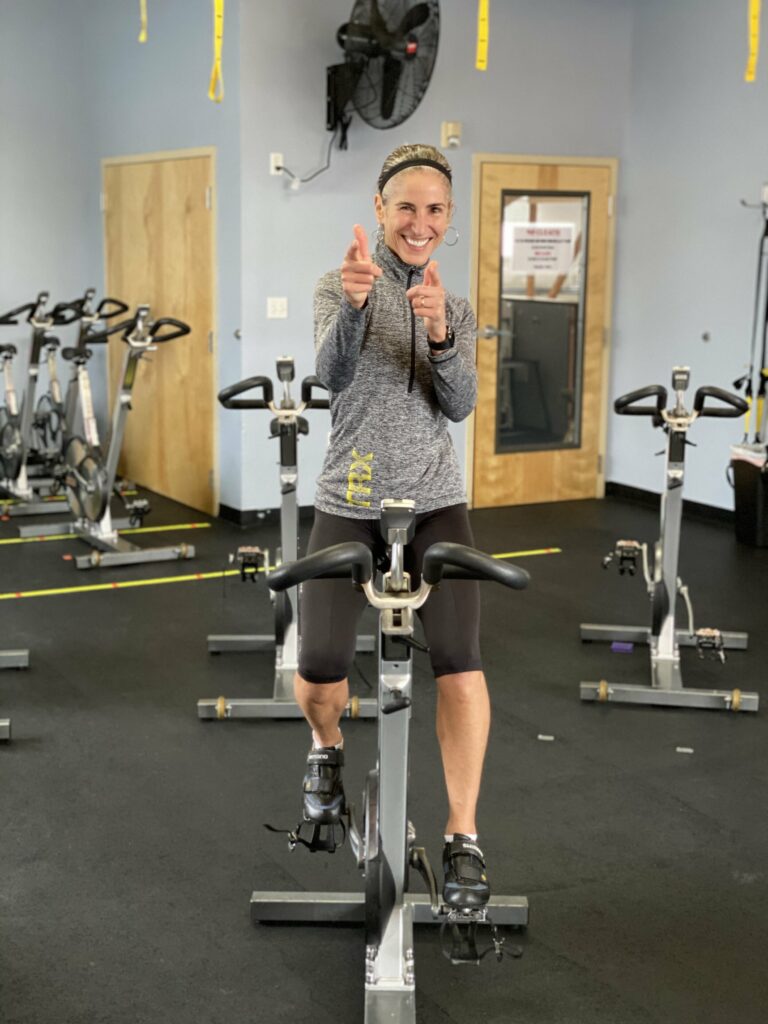 If you've ever taken a spin class from me, you know I am passionate about my class. I enjoy the group energy. I love that it's a controlled environment and easy to do specific heart rate training. Spin class is perfect for mixing things up, cross-training, working through an injury, or used as an off-season training workout for other sports. This class is unique in that each student can tailor the workout to fit their needs that day, depending on how they feel. What does that mean? If someone comes in tired, they can keep the resistance low and spin. If they're full of energy, then crank it up and go for it!
I've been teaching spin classes for 20 years, and no two workouts are "exactly" the same. I try to approach each workout with a different focus. Some days might map to an outdoor ride enjoying hills, flats, and sprints. On other days, I'll focus on challenging and building different heart rate zones with short or longer intervals (wearing a heart rate monitor is a bonus).
The benefit of using the bikes at Island Fitness is that they have a computer that gives you great feedback as you ride. Using the RPM's, watts, gear, and distance will help you track and monitor your progress over time. In other words, are you getting stronger?
The indoor spin classes are appropriate for all fitness levels. Everyone works at their fitness level. If it's your first time taking a spin class, arrive 10-minutes early to get set up on your bike. Also, bring a towel and water bottle, you are going to need both!
Here's to seeing you in my next Cycle 45 class – Tuesdays at 12:15pm.